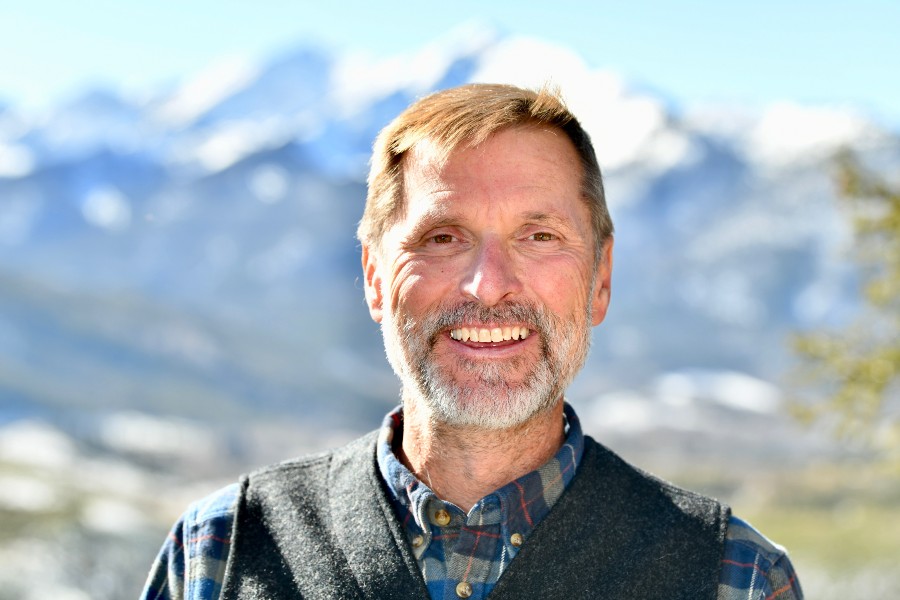 In twenty years working just about every role up to his current one as Program Director, Doug has shaped the Energy department into an innovative, mission-based program. Raised in Pennsylvania, where he achieved an Associate Degree in Architectural Technology, Jones then worked for five years with a Master Homebuilder during which time "the two of them built everything" from the ground up. Notes Jones, "it was a great learning experience."
After that, two key decisions shaped his career. The first was moving to Colorado in 1996 to explore his love of outdoors activities such as skiing, hiking and biking. There he met Erin, a physical therapist in Summit County who shared his love of traveling and exploring the outdoors. They were married in 2010. The second was what happened when he realized that he had lost his enthusiasm for building custom homes. Jones decided to try something different and answered an ad in the local newspaper for Weatherization Installer at NWCCOG. It didn't take long for Jones to observe first-hand how a better operating heating system, and weatherized home made a positive impact on the quality-of-life for low income families. That sparked a pilot light within Jones that remains a strong flame today.
The nuts and bolts of weatherizing a home, including funding from the Department of Energy for the Weatherization Assistance Program (WAP), have not changed considerably since the mid-1970 when the program began, nor has the basic purpose: to provide many low-income households with quality energy efficient services, in a safe and cost effective manner. Jones notes that the need for this work is as great as ever, and that he is "dedicated to improve the Energy Program to make an impact on climate change, and help our most vulnerable be more resilient to its' impacts."
What has changed is that under Doug's leadership the Energy Program leverages the team's skillset to embark upon multiple inter-related programs and funding sources in order to diversify and expand the energy savings potential for low income Coloradans. Over time, the program has made many partners from those at a state level, to those at a local level, including government agencies, non-profits and a variety of local utility companies. Those efforts have the advantage of levelling-out the annual fluctuations in DOE funding that once led to painful cycles of hiring and layoffs. Today, the synergies of the various programs, CIP and CARE, and other fee for service work provides stability while keeping overhead costs low. The efficiencies of operating multiple programs functioning together in one region that would not normally exist in standalone programs has also allowed Jones to retain and develop talent. One of his other successes is establishing a robust training and professional development program for Energy staff.
Jones sees that flame in each of the many employees he has hired. Perhaps that is because the NWCCOG Energy program has provided him a career ladder and scaffolding to continually find ways to deliver on the program's mission. Since 1999 when, "I started out as an insulation and air sealing tech." Jones notes, "it was hard work but I found out quickly that, like my grandfather and mother before me, I really enjoyed helping people in need." Jones seeks and has been adept at finding employees with a passion for helping others. He strives to provide opportunities for his employees, having himself earned pride in his work as he advanced to furnace tech in 2000, then Energy Auditor in 2000, Inspector, Field Supervisor in 2004 before becoming Director of the NWCCOG Energy Program in 2016.
One of Jones' other successes is in distributing and sharing leadership across the department, including with Nate Speerstra, another 20-year employee who is the Energy Program Manager, Emily Hoskins who is the Outreach Manager and Dan Mayberry, the CARE Program Manager.