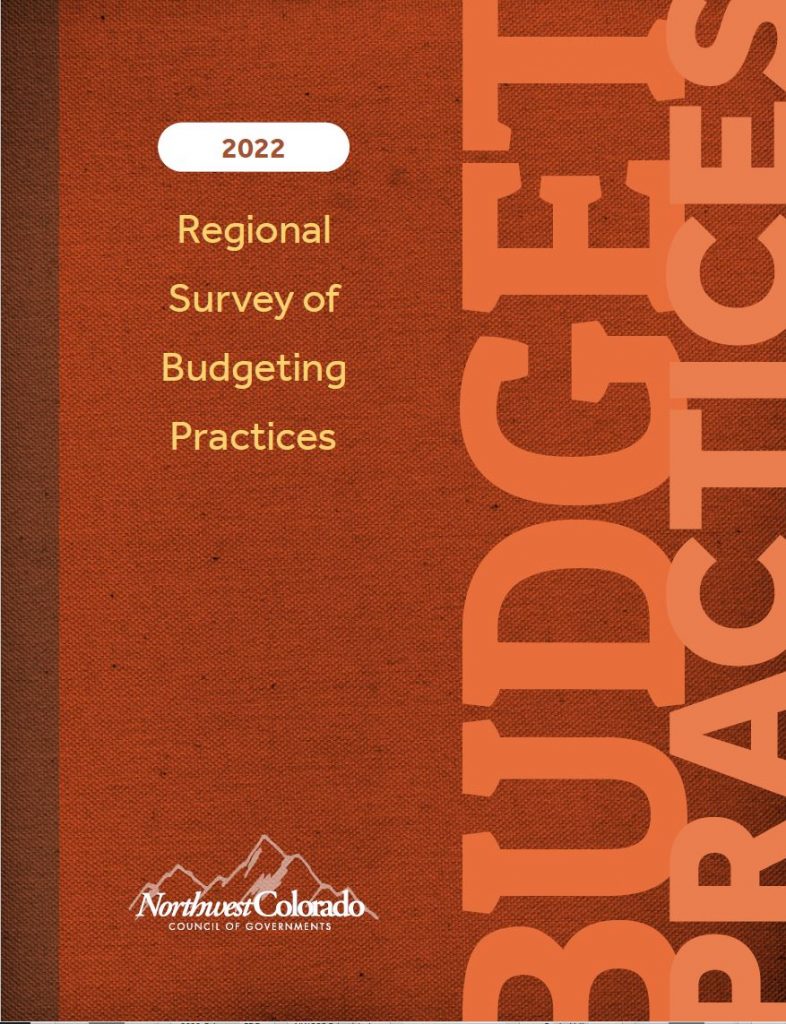 We think civic leaders should consider how their organization approaches budgeting. Our Mission at NWCCOG is aligned with our funding partner in this project, the Colorado Department of Local Affairs, which is to assist and support local governments. One way we do this is providing data through a regional perspective.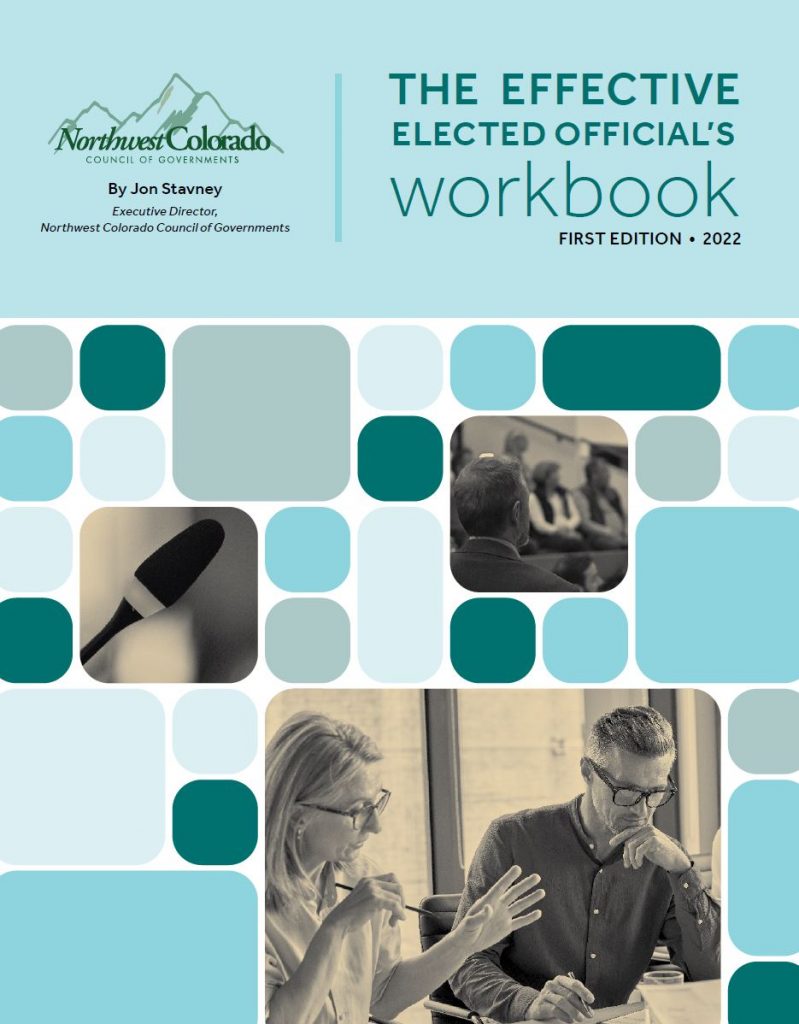 Congratulations, you've gotten yourself elected! How do you shift from citizen to public servant and effective board. You may discover there is no obvious path. I have been elected to public office six times; honored to serve as a town trustee, a Mayor and a county commissioner. In each role, I learned by doing. I now support leaders across multiple municipalities and counties, only a handful of which deliberately onboard newly elected officials as well as they onboard staff.
Having a Regional Broadband Program means that we get a front row seat to some amazing work going on that doesn't have many cheerleaders in the media – or like any utility once it is working—users who appreciate the story behind how it came to be. We think these stories are evolving, and that public broadband will only increase in importance. We also hope that some leader, some future champion in some community near or far that is not as far along in the public broadband journey as some of those highlighted in the report will recognize their community's future in these pages and find some inspiration to move forward.
Between 2013 and 2022, The Northwest Loan Fund has made 74 loans for a total of $5.88 Million, creating in excess of 200 jobs throughout the NLF Region. This booklet is a sample of some of the loans that were made possible through the work at the NLF.  The report is not intended to be all inclusive, many of our clients prefer their privacy and have asked not to be included.  We hope this sample will encourage small business owners in our Region to reach out to our team when they need  funding for equipment, staffing, operating capital, expansion etc.
As communities experience change in growth, employment patterns, and population aging, transportation needs and travel patterns also change – and transportation services must adjust to meet those needs. The purpose of this study is to provide the State and NWCCOG with:
–  An inventory of current transportation services in the study area;
–  An assessment of current and future transportation needs for the general population and particular market segments, including persons with disabilities and the older adult population; and,
–  Recommendations for needed transportation in the region.
Are COVID Impacts on Housing & Services Here to Stay? is a study of the recent influx of people residing in mountain communities, a trend that coincides with a boom in remote work and the COVID pandemic.   The survey seeks to quantify what appeared to be unusually full occupancy for many communities throughout the year, and asks, was it indeed a trend, and if so, who were the migrants?  It studies the demographics and long-term intent of migrants and how their influx is shaping these places.  The report concludes that the in-migration is occurring, and that there are significant long-term implications for communities which ought to be addressed. Panel discussion held June 30, 2021. 
Published in March 2020, report provides context sections and outlines ideal local regulations for more accessible homes, provides a list of actions for local implementation, and pullout sections with overview for each of 7 counties. Report was written by Mary Kenyon of Impact Marketing Aspen and was funded jointly through Vintage and DOLA COG-cycle grant with the purpose of highlighting the importance of older adults to the workforce, and that both public and private housing projects can and should tailor interior details to be aging-friendly. Age friendly housing is not just about medically supervised continuum of care facilities. Hard Copies still available.
Published November of 2020, report makes recommendations for changing SB20-217 and how the state administers it so as to have a less-negative impact on community policing in the region. Report was compiled by Retired Chief Heather Coogan of True to Course LLC who interviewed Chiefs and Sheriffs across the region about how they are adapting local policy and budgets in the wake of the Colorado Legislature passing SB20-217 the Use of Force bill which imposes sweeping reforms on police in the wake of national incidents and protest in the summer of 2020. Report also provides insights into Law Enforcement for other public leaders to better understand how agencies work. Report was funded by NWCCOG, CIRSA and a COG-cycle grant from DOLA. Staff at CIRSA formatted and published the document. Hard Copies still available.
Published January 2021, report is intended to raise awareness of challenges facing the industry to local leaders, offer options, examples of best practices and a call to action for how to improve the regions early childhood ecosystems. The industry is supported by a hodge-podge of admirable local partners, but lacks systemic supports. Report suggests local actions as well as broader advocacy. Report was compiled through focus groups and research by Government Performance U.S. with input from an active steering committee. Project was funded by NWCOG Dues and a COG-cycle grant from DOLA. Hard Copies will be available.
NWCCOG was the fastest growing region in the state from 1990-2000, with an overall 73% population growth. Over 70% of the skier visits in the state occur in this area. A tourism based economy dominates the region which includes a strong second home market and high real estate values. In 2002, the Town of Vail, on behalf of towns and counties in the NWCCOG region, received a Colorado Heritage Grant from the Colorado Office of Smart Growth to study the social and economic effects of second homes. A steering committee for the project was established with representatives from NWCCOG member towns and counties. This report was published in 2004.
Published in April 2018, the report is a compilation of research done by NWCCOG Executive Director, Jon Stavney to survey how local governments were managing regulation of e-bike use. For a period of time from late 2017 through 2019, nearly every jurisdiction in the region (and the State) was wrangling with this emerging technology, and how to regulate it. Given the diverse manner in which it was treated by Federal land managers, "motorized" use noted in conservation easements, use along many mountain paved recreation path systems was confusing. Nearly all NWCCOG member jurisdictions have regional trail systems, paved and single track which cross many boundaries. The report has many links which may or may not still be active to NWCCOG webpages. Additional E-Bike Resources
Member Auditors Spreadsheet 2018
Not all research projects involve a deep dive. Sometimes it is valuable enough to gather information from among the membership to ask the question often asked by someone on just about every board, every year when something like renewing the contract with an auditor arise, like, "how often do other jurisdictions change auditors?" and "do they have a policy for that?" 
Spreadsheet available upon request to Members – Contact office@nwccog.org
Published in January 2019 and compiled by Rachel Lunney for the Economic Development District, this data-rich report had contributions from Colorado Association of Ski Towns and Community Builders. The Report highlights each member community in the NWCCOG region, and many in the broader CAST region, with one to two page summaries of their existing workforce housing stock, efforts and initiatives. The report compares units, funding tools and regulations in side-by-side tables for each community in a parallel structure including contact information and links to local documents and resources. 
Published in March of 2018, the report highlights local projects in partner jurisdictions across the NWCCOG region telling the story in one-page form with metrics how each project was funded and established, including links to media stories about those projects. Though somewhat dated now that most of those local projects have expanded considerably, the 12-page report published just before the launch of Project THOR illustrates how the NWCCOG regional broadband director has provided an array of technical assistance to help various communities to meet their needs, and shows how distinct the partners and approaches are for each jurisdiction. 
In response to the Bark Beetle crisis in the early 2000s, NWCCOG stood up a regional group called the Colorado Bark Beetle Cooperative which provided a powerful voice advocating for this issue at a State and Federal level.  That work led to Community Wildfire Protection Plans for which the CBBC secured funding or fire mitigation.  The CBBC spun off into a number of groups which continue the work at a community level, mostly in Summit County now.  Click here to read former NWCCOG Executive Director, Gary Severson's comments and a success story published by the USFS on those efforts.